Date: February 01, 2015
The very name is suggestive of an old road but I must admit I hadn't thought about it before. Yesterday we were invited down there by Ian Parker, the land owner, to have a look at an old culvert that he had discovered going under the road.
Culverts under roads are not unusual but Ian was struck by size and quality of this one.
It was big enough for him to crawl into and had huge cap stones both on top and underneath.
 On reaching the other end, the culvert opened up into a kind of chamber big enough for him to stand up in with two or three opening where the water was coming in.
The site is located about half way between Leyland Mill and Brock Mill on the Douglas side of the road. When Ian began to speculate about its age he realised that there had been quite a lot of industrial activity in the area including mining and this could be connected. However he also knew that Wigan was a Roman town and there had been reports of Roman mining further up the Douglas valley at Arley (see our Projects page here).
Further research has led him to an article by John Howard entitled  A Roman Road and its Culverts published in 2002 which details the investigations done on a section of road between Ribchester and Burrow-in-Lonsdale. The photographs in the article (see below) are remarkably similar to the culvert he had uncovered and that's when he decided to contact the Society.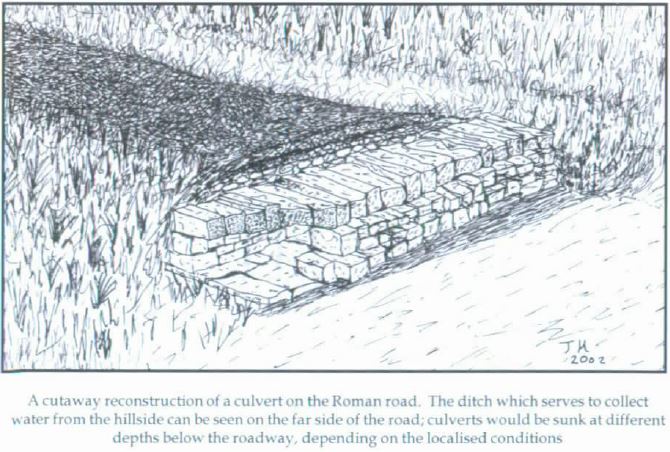 Ian became even more convinced of its antiquity when we told him about the supposed road leading from Wigan to Ribchester (although it is general thought that the road followed Wigan Lane before branching off at Boar's Head). Even if it is not Roman (and to be honest, its location halfway down the high embankment doesn't suggest it is), it is quite a remarkable feature of some age and worthy of further investigations. Ian has said that he is quite willing to allow an excavation of the site to see if we can establish its age. This could only be limited however due to the steepness of the embankment (and need to check for inhabitants such as bats).
The road from Wigan to Ribchester has long been speculated upon but no evidence of it has ever been found. The Wingates road is in the right direction but how it fits into the generally considered route is hard to imagine. It would be quite something however, if this could be shown that this road has some connection to it.