This is where the M6 crosses the Douglas valley and the railway to Southport crosses the Leeds and Liverpool canal. In 1774 the canal between here and Parbold terminated at this point. Barges then had to transfer onto the Douglas Navigation to continue their journey into Wigan. The remains of the lock connecting the canal with the river can still be seen.  
More interestingly, though, are the possible remains of the original river lock which was in use before the canal was built. It was part of the original Douglas Navigation which was completed in 1742.
 The river lock consisted of a huge weir across the river which backed up the water and a lock system to allow barges to pass through.
There was also a bypass channel (following the original river course) and another weir presumably to cope with excess water in times of heavy rainfall.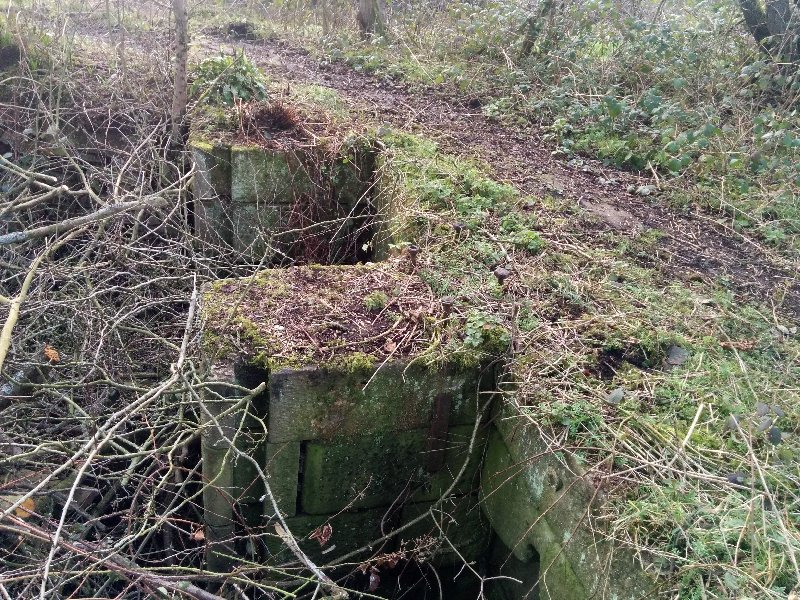 When the canal became operational in 1774, the river lock became redundant and the gates were removed. However the weirs were retained and sluice gates installed where the river lock was (the remains of these are still visible). This enabled the canal river lock to be used as a feeder for the canal (labelled as Regulating Lock).

This system remained in use well into the 20th century (the weir is still shown on the 1928 25 inch OS map). The main river weir was final removed in the mid 1930s in favour of a weir further down stream at Green Alley Wood which was built to feed the canal below the Locks at Appley Bridge.