Sunday 28th July 2013
What a great day we had on Sunday. Our first site, the Iron Age Hill Fort at Bodfari in North Wales meant a steep climb but it was well worth it. We were met by Gary Lock, emeritus Professor of Archaeology at Oxford University, who has been excavating here for a few seasons now.
One of the aim of the excavations, which are partly funded by CADW, is to see if the site was permanently occupied or just used as a refuge in troubled times.
The hill fort consists of a series of banks and ditches surrounding the hill top on three sides. An early discovery was that the fourth side would also have had had banks and ditches but had been destroyed by quarrying in the late middle ages.
We were ably looked after by John Poundbury, one of Gary's team, who took us around the site and explained in some detail the structure of the site and what they had found to date.
On the south side excavations across the outer bank has revealed tentative evidence of a stone wall which would have acted as a revetment.
Excavations near the entrance to the site on the north side have revealed evidence of a round house which would have been quite an impressive sight as you came through the gateway.
Previous season work (now covered over) had revealed a cobbled surface but finds were quite rare. However Gary and his team are confident they will be able to discover more of the people that lived there, the period the site was occupied and for how long. This was a rare opportunity to visit an ancient monument which is on private land and I would therefore like to thank Gary for allowing us the privilege.
Our second site was Rhuddlan Castle where we had our picnic lunch.
In the summer of 1277 Edward I invaded north Wales from his base at Chester. By late August he had reached Rhuddlan where he proceeded erect this magnificent castle. Llywelyn's surrender in the following month brought the war to a successful conclusion, though it was not until November that hostilities were formally terminated by the submission of Llywelyn to the king at Rhuddlan.
Apart from the castle and the huge rock-cut moat surrounding it, what was remarkable about the site was the huge channel cut in the river so that ships could sail right up to it. The castle also saw action in the Civil War and was eventually slighted by Parliament forces rendering it useless.
Our next site was this impressive Celtic Cross at Maen Achwyfan which lies just a mile or two west of Whitford. It's a 12ft high stone monolith with carvings on its shaft similar to Celtic and Viking styles and is believed to be the tallest wheelcross in Britain. It is generally thought to have been erected around 1000 A.D. as a Lamentation Stone.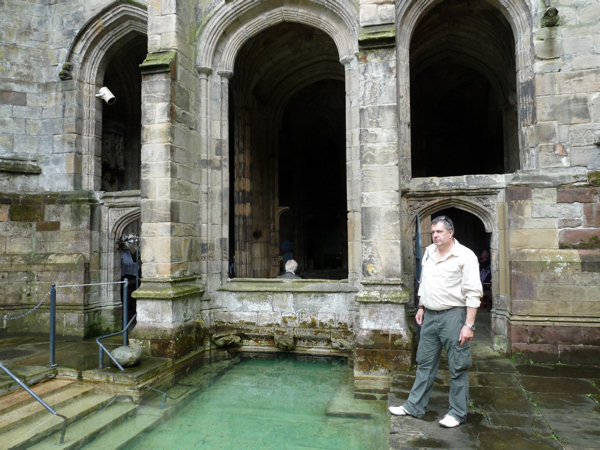 Our next site was the St Winefride's Well at Holywell. According to the legend, this is the site where she had her head cut off by her would-be rapist Caradog. Restored to life at the prayers of her uncle St Beuno – Winefride lived as a nun until her second death some 22 years later. Whatever the truth, Winefride was real 7th-century Welsh woman who has been venerated as a saint ever since the moment of her death. Since that time, too, her Well at Holywell has been a place of pilgrimage and healing – the only such place in Britain with a continuous history of public pilgrimage for over 13 centuries.
The present shrine is a Gothic building 2-storey high in the late Perpendicular style erected in the early 16th century, and is unique in the world. It is a Grade I Listed Building and a Scheduled Ancient Monument (it was tempting to sooth our aching limbs in the cool water but there was no bathing allowed on the day).
Our final site was to have been Basingwerk Abbey in the grounds of the Greenfields Heritage Park. However at this point (having pushed our luck with the weather) the heavens opened and, as it was getting quite late, we decided to call it a day (the consensus was that we'd already had a great trip and Basingwerk could wait for another day).