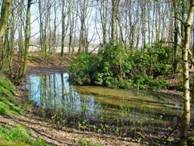 Last month's field trip to Winstanley Hall was a great success. On a lovely Sunday morning our large turn out was skilfully guided round the rambling estate by professional archaeologist Mark Fletcher from Matrix Archaeology. First on the agenda was the medieval Moated site, still bearing the evidence of a ditch on at least three sides. The central platform, now wooded, however, shows signs of considerable disturbance, but Mark is hopeful that some archaeology may still remain.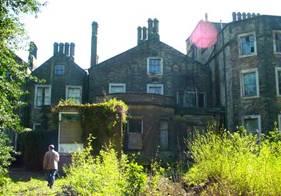 A short distance away Mark showed us the remains of a small stone building, which he referred to as the 'Bear Cage'. Apparently bears were kept here for the amusement of the Hall Guests. On the other side of the Moat is the new development, on the site of the old kitchen garden. This is where Mark carried out his archaeological evaluation. Although nothing of any significance was found here, Mark has been asked to continue a watching brief as the rest of the development proceeds. Tim Banks, the owner is rebuilding workshops / utility buildings up against the original garden wall. The construction has revealed the wall to be hollow. Heat from various furnaces would percolate through, thus allowing exotic fruit such as pineapples and later grapes to be grown in the large adjoining greenhouse. With the greenhouse now demolished Tim intends building a large conservatory with an indoor swimming pool. The high garden wall originally ran around three sides of the garden but on the fourth there was a 'Ha-Ha'. This ditch-feature extended along a track leading from the garden into a small wooded valley some distance away. Mark referred to this as the '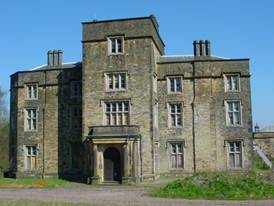 Pleasure Gardens'. Now over-grown, the site had originally been landscaped, with two small artificial lakes in the centre. A curious feature in one corner turned out to be the semi-buried remains of a circular icehouse, popular in the days before the advent of refrigeration.

From the wood Mark led the way towards the Hall itself, quite a surprise and much bigger than expected. It included a large complex of ancillary buildings with a courtyard and much statuary. These are generally in a poor state of preservation, but must have presented quite a show in their day. Especially the huge water-feature in the centre of the courtyard representing Neptune on three horses. The whole complex is a complete mix of styles, not necessarily aesthetically appealing but certainly interesting architecturally. It is hoped that when planning permission is finally sorted out and work is allowed to continue, many of its redeeming features will be retained. On behalf of the society I would like to thank Mark Fletcher for a great day out.
Hadrian's Wall Trip
Chorley Archaeological Society are organising a field trip to Housteads and nearby sections of The Wall on the Sunday 23rd of June. An invitation has been kindly extended to include our society, so if you are interest please contact me at the meeting.
Merseyside Arch. Soc.
Last month Tom and I gave a presentation to this prestigious group who meet in Liverpool University. They are well established with over 150 members and last year celebrated their 25th year. They seemed greatly impressed with our activities and would like to form a stronger association in the future. In the mean time we are swapping newsletters and programmes which will be available at the next meeting.
CBA Spring Reports
This is to be held at Speke Hall on Saturday 11th May and will include a guided tour of the Hall itself. A full programme of speakers includes Derek Pierce from STAG who will be presenting the High Legh excavation project. If you want to go, please see me at he meeting for details.
Next Meeting
Wednesday 1st May at the BP Centre (Scout HQ) in Greenough Street, at 7.30 pm as usual. This month's speaker is Ron Cowell from Liverpool Museum, who will be presenting a talk about work he has been carrying out on the Romano-British site near Lathome.
Hope to see you there. B.A.