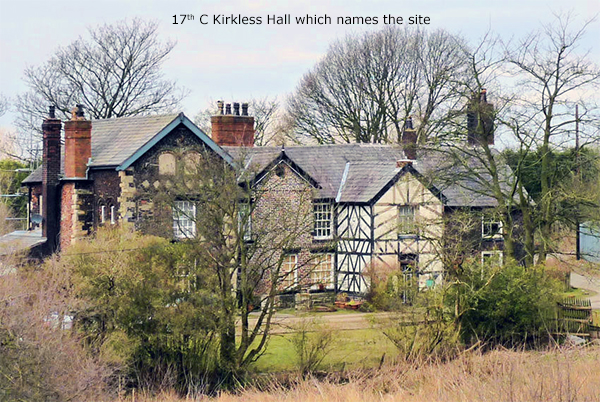 Formed in May last year, this group have been busy getting the local community involved in looking after this site, which has environmental and historical importance. As reported in newsletter No.155, the group was created by the Wild Life Trust and project officer, Liz Vango-Smith, has asked our Society to get involved to see if we could indentify and record features on the ground. The Kirkless Iron & Steel Works was formed in 1858, on the site of a previous coal mine, on the banks of the Leeds and Liverpool canal in Higher Ince.
It later became the Wigan Coal and Iron Company, reputed to be one of the largest iron works in Europe. Starting initially with 5 blast furnaces, 65ft high, it soon expanded to 10 with the addition of another 5 80ft high in 1886. Towards the end of the century a new steel works was opened with 5 open hearth furnaces producing 1300 tons of steel a week. After the First World War demand for steel declined and, when a more efficient plant opened in Irlam, production was curtailed in 1930. Much of the site remained derelict but in recent years attempts have been made to clean it up.

A large part has been turned into an industrial estate, the rest of the area being returned to nature. Special conditions of the soil have created a unique habitat where flora and fauna, found in only a few other places in Britain, are now thriving. The intention of the Friends group is to maintain this habitat and improve the area by making it an attractive amenity for the local community. It also forms part of the much larger Greenheart Regional Park project which has the intention of joining up many other similar sites across the borough.
Initial Site Visit
On a bitterly cold Bank Holiday Monday, Mary, Eric and I ventured out to look at the site and see what a site survey would involve. Having just taken charge of our new plane table surveying equipment, we were keen to take it into the field to try it out. A ridge running east west, borders the southern edge of the site, making it a great vantage point for the area to be surveyed.
This hill is actually a slag heap from the earliest period of production and is know locally as Rabbit Rocks. Much larger slag heaps were formed later on on the east side of the site but most of these have now been removed. We set up the table at the west end of Rabbit Rocks but the biting wind proved too much and, before frostbite could set in, we decided to abandon the attempt. We did however get a chance to walk over the survey area and identified some elements which could be recorded. If you want to get involved in this project contact Eric or myself at the meeting.
Next Meeting
Wednesday 3rd April - in the Standish Suite at the Brocket Arms (7.30pm as usual). This month we have Alex Miller from the Wigan Archive Service. The Service is based at the Leigh Town Hall and is available during the week - Tuesday, Wednesday, Thursday between 10.00am and 4.30pm. Here is their website http://www.wlct.org/heritageservices/ wigan-archives-service.htm .
They have a wide range of archives in store which are meticulously catalogued for ease of access. This includes over 30,000 photographs which can now be viewed online (http://wiganimages.wlct.org/).
Alex will be explaining how the service can be used by anyone wanting to research all manner of things from family histories to sites of historical or archaeological interest. Hope to see you there, BA.
CBA NW Spring Conference
This years conference is to be held in the Upper Hall of The Friends Meeting House in the centre of Manchester on Saturday May 11th . The subject this year is The Mesolithic of North-West England: Current Research and includes a range of interesting speakers (see attached programme). Note you will need to book for this event as numbers a limited.