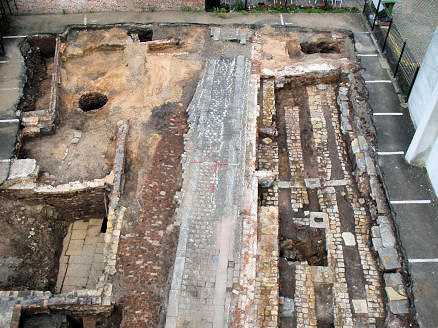 Ian Miller's team from Oxford Archaeology North have been excavating at the top of the Wiend for the last two weeks. The results, although limited, have still been quite fascinating. Mooreís Yard is on the highest part of the Wiend where William Park's Workshops used to be. The team have only been able to recover layers down to the 18th century but they have discovered some interesting features. Note the round shaft top left; this was initially thought to be a well but now the excavators think it is a mine shaft dating from the 18th century. Amongst the general backfill, a piece of Medieval pottery 'waster' has turned up suggesting that there was pottery kiln in the area (if true, this would be a first for Lancashire). The archaeology here, because of this site's position, is quite shallow but soon the team will be moving further down the hill where they expect to find remains from much earlier periods. Ian has said that we are welcome to visit the site at any time and has also indicated that if any member wanted to get involved there should be an opportunity later in the month.
Rectory Survey
Last month Tom, Brian and I carried out a resistivity survey on the back lawn of the Wigan Hall in Frog Lane. The lawn, which lies on the high ground next to the hall, is flat and clear of trees providing an ideal site for this type of survey. The results showed a number of geometrical patterns which could represent some underlying feature left by previous structures on the site. You can view the results of the survey (if you are a member) by visiting our Society forum here (remember to log in first). However when we opened a small test pit on a spot of high resistivity, the underlying sub-soil was an area of dry sand. Auguring another high spot produced a similar result. Our initial conclusion is that the patterns may just be the result dry patches of sand and clay. Tom has checked the geology map and has confirmed that sand and gravel is underlying geology in this area (they were extracting it in the 19th century on the Grammar School playing field site). We carried out further auguring in the adjacent rose garden and surrounding wooded area. The result showed that the sand continued beyond the area of the lawn but did not extend into the wooded area. This could mean the raised platform that the hall is built on is a natural feature with perhaps the remnant of a ditch surviving around its base. A further survey and test pits will help us to confirm or otherwise this conclusion.
Desk-Top Survey
This site is obviously an archaeologically sensitive area and as such an archaeological condition has been placed on its planning application. This will start with a Desk-Top Survey (DTS) followed by excavations all paid for by the developers. This week we will be meeting with Norman Redhead (of the GMAU) to discuss how we can work together on any future activity on the site. In the mean time, however, our Society has carried out its own DTS and this can be viewed (if you are a member) on our Wigapedia website here (again remember to login first).
A Window on Wiganís History
This is the title of a series of playlets being performed by students from BETA (Basic Education & Training for Adults) depicting Wiganís rich and varied history. Roman invasion; King Arthur on the banks of the River Dhu Glas; Vikings; Norman Conquest; Granting of Wiganís 1246 Charter; Lady Mabel of Haigh Hall; Lord Derby's wedding in 1595; Battle of Wigan Lane 1651; William Wilberforce and Peterloo. Although quite short, these playlets convey a serious message of equality and justice, but in a light-hearted manner. Entrance is by programme £2 each. The plays are to be performed at St. Michael's Hall, Shaw Street, Swinley on Friday 25th July 2008 at 7.30 p.m.
Next Meeting
Wednesday 2nd July at the District Scout HQ (Baden Powell Centre) in Greenough Street, starting at 7.30 pm as usual. This month we have something a little different from the usual archaeological subject matter. Bernard Champness of the Manchester Regional Industrial Archaeological Society will be presenting his talk entitled "St Francis of Ancoats, a history of the early development of the Internal Combustion Engine and the Crossley Brothers". I had no idea Manchester played a role in such an important development - it will be fascinating to find out exactly what it was.

Hope to see you there B.A.